GRAMMY Award-winning conductor, David Alan Miller and the "intrepid" musicians of the Albany Symphony (The New York Times) are no strangers to delivering cutting-edge performances that bend and blend genres into thrilling concert experiences. Many of these cutting edge performances are given a voice beyond the concert and are recorded and released for the world to discover.
CHECK OUT THE NEWEST RELEASES FROM THE ALBANY SYMPHONY!
MICHAEL TORKE | SKY
TITLE: SKY | COMPOSER: MICHAEL TORKE | RELEASE THURSDAY, AUGUST 1, 2020
RECORDED AT THE TROY SAVINGS BANK MUSIC HALL, TROY, NY
On August 1, the Albany Symphony released SKY, its third full-length album with composer Michael Torke and its first recording with violinist, Tessa Lark. The album includes four new concertos, for violin, bassoon, clarinet, and oboe. SKY, the title piece on the album, was co-commissioned and premiered by the Albany Symphony on January 5, 2019 at the Troy Savings Bank Music Hall. The work imposes a bluegrass vernacular onto classical forms, like the sounds of a slow Irish reel, banjo picking, and fiddle licks in triple time. Its a perfect piece for acclaimed concert violinist and fiddle virtuoso, Tessa Lark. The album also includes three concertinos (miniature concertos) for bassoon (West) featuring bassoonist, Peter Kolkay, oboe (South) with Ryan Roberts, and East, a concertino composed for Albany Symphony Principal Clarinetist, Weixiong Wang.
TITLE: MIGRATIONS | DEREK BERMEL | RELEASED FRIDAY, AUGUST 9, 2020
RECORDED AT EMPAC DURING THE 2015 AMERICAN MUSIC FESTIVAL AT EMPAC AND THE TROY SAVINGS BANK MUSIC HALL, TROY, NY.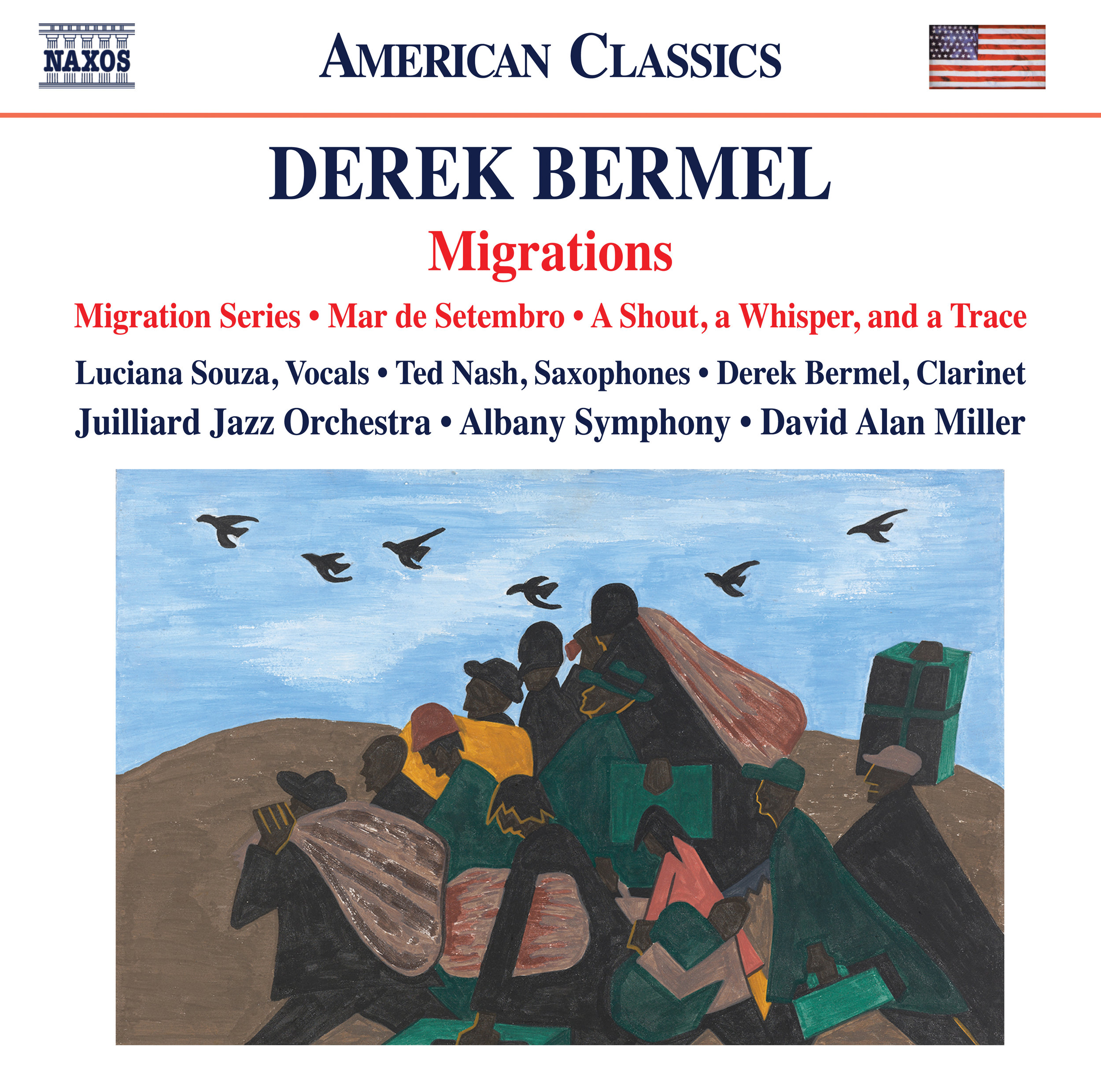 Migrations is a stunning example of what Naxos desribes as Derek Bermel's, "superb craftsmanship and eclectic style. At the center of the album is Migration Series (2006), a work commissioned by Wynton Marsalis for his Jazz at Lincoln Center Orchestra and the American Composers Orchestra.
The jazz-tinged concerto for orchestra and Jazz band is composed in five movements and weaves through classical and jazz forms with touches of American folk music and hip hop to create a unique soundscape. The work captures the shapes, colors, moods and atmospheres of the paintings by Jacob Lawrence, while touching on the complexities of the migrant experience, including larger themes of determination, mystery, joy, despair, prejudice, rejection, violence, and poverty.
TAKE A LISTEN AND TELL US WHAT YOU THINK USING #LISTENADVENTUROUSLY
Digital albums are available on Amazon, iTunes or wherever you purchase your music. If you prefer CDs, visit the Albany Symphony Box Office or call 518-694.3300 to purchase your personal copy signed by David Alan Miller.
Follow the This Is Albany Symphony SPOTIFY playlist. Enjoy your favorite Albany Symphony recordings and the essential tracks, all in one playlist.
Visit the Albany Symphony's SPOTIFY page and listen to the growing catalog of over 30 commercially release albums with over 253,000 streams.